Fintechlab, Care Challenge: Cash & loans for the unbanked
http://fintechlab.dk/virtual-lab
https://cphfintech.wazoku.com/#/challenge/f05c193da8434113acb876251f620557
13 Aug 2018:
https://copenhagenfintech.dk/events/care-challenge-pitch-day-new-fintech-solutions-to-provide-cash-loans-for-the-unbanked/
Finclustion public presentation on 13 aug 2018
---
Title: CARE FINCLUSION
Public Description of Your Solution:
FINCLUSION is a mobile based Financial Inclusion to enable CARE provide loans to the unbanked.
What is your solution?
FINCLUSION is powered by well known open source MFI organizations.
The different components of FINCLUSION are:
Mojaloop
Providing both simple text based User Interface (UI) & Backend integration to Open source banking system (MifosX) and integration to Local Telcos with Mobile Money Wallet.
MifosX
Mifos has its root in Grameen Foundation, an open source web based Core Banking Application (CBA) built with Financial Inclusion, with capabilities in Loans management, Clients management, accounting, savings and Credit Union functionality.
Telcos Mobile Money
Form of Banking powered by local telcos giving access to financial services to the millions of the unbanked.
Proposed End to End solution.
Setup Core banking (Mifos) to handle the loans management and accounting with access to core back office operations.
Integrate Mojaloop to enable features such as Mobile transaction, transfers, integration with telcos, access via text based technology for 2G+ phones, fraud detection, Anti laundering & Credit Score functionality.
The system will have inbuilt credit scores against all potential borrowers by consuming data from their historical information from Telcos and within Core Banking. Their consumerism, borrowing trends etc to help determine their legibility and capability to borrow.
Loans will be issued via the Mojaloop into the clients mobile wallets. They can then cash out from the widely distributed networks of Mobile telecoms.
Repayments can be handled via mobile wallet through mojagap and information stored in MifosX.
Mifos site: http://mifosx.openmf.org/Mifos%20website/mifos.org/index.html
Mifos X is a globally used platform for all types of financial institutions. the current platform features
Mifos Demo: https://demo.openmf.org (mifos | password)
---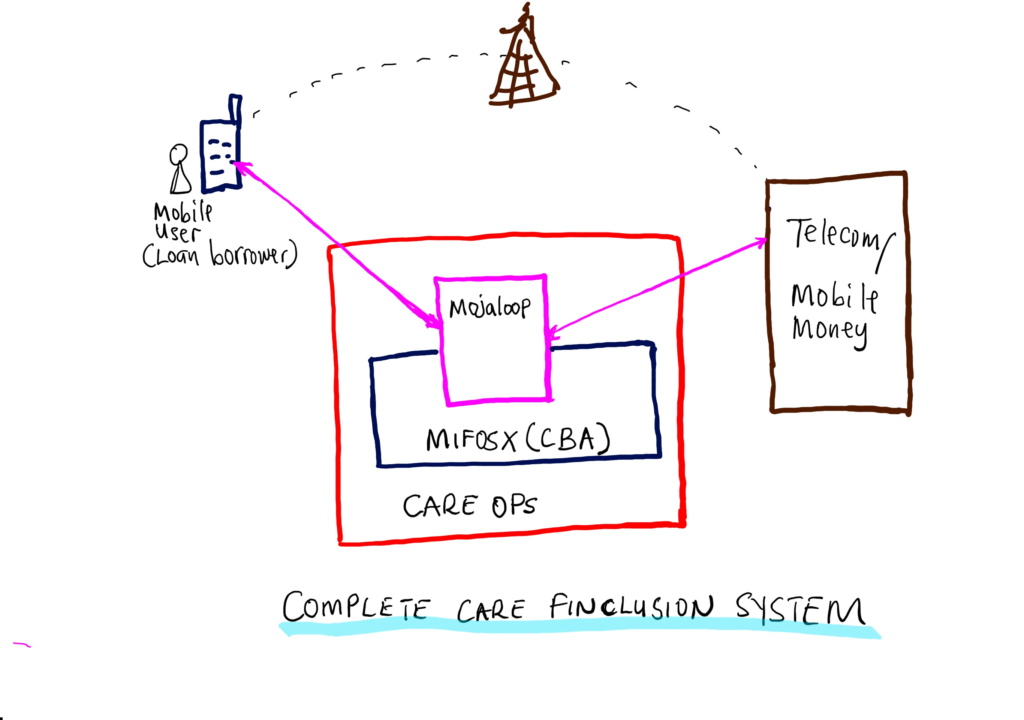 ---
---
FINCLUSION SDG metrics to measure impact against
Increase level of banking to the unbanked.
Providing credit scores capability
Easy to use UI with multilingual capability
Poverty alleviation
Inclusion to both illiterate and semi illiterate by running application across 2G+ phones.
User Pricing
The System is based on well know open source MFI organization which offered for free. The only cost will be calculated based on the the initial and maintenance project cost that will be offered to the users based on monthly and offen per transaction cost.
How developed is your solution today?
Developed:
– Mojaloop backend and light frontend is developed about 85%
– MifosX is readily available to to be used as-is (with maybe minor changes) 95%
Not developed:
– Integration of Mojaloop and Mifos
– Integration of Mojaloop and Telecoms
– Loan disbursement and repayment UI on top of Mojaloop.
Who is in your team?

We have passion for financial inclusion. We have combined over 15 years of experience in implementing solutions for financial inclusion.
BankTech team in Denmark, also current and previous members of MifosX team.
BankTech.dk is a Danish fintech company based in Copenhagen with many years of experience in IT/Telecom deployment and maintenance will be responsible for the offered solution.
Fiter.io mission is to be the bridge between technology and financial institutions. We combine decades of experience in technology and finance. We understand the pains and constraints of big and small financial.
We have also access to Mifos and Mojaloop team and resouces to assisst us with the project.
What is your motivation?
Financial Inclusion as our mission is in at the core of our activities. Working with CARE is a match to collaobrate and engage helping people in need.
What is your ideas for PoC?
Proof of Concept will not include end to end. It will not integration with telcoms but will have Mobile UI integration with Mojaloop and MifosX.
Time to have POC ready
1-3 months of active development.
1xTech lead (Mojaloop)
1xSenior developer for Mifos (for integration)
1xBusiness analyst.
1xQuality Engineer.
Keywords:
Add team members:
Attachments:
---
Q: Great that you include SDG metrics!
How will the credit scoring system work in a Base of the Pyramide consumer situation where most credit history is paper based or none existent?
It seems that it will be CARE operating the platform in this solution and not MifosX as a service provider, is that correctly understood? Then is there the option of a type of service agreement for maintenance and upgrading or is that the MIFOS community doing that?
A: We are glad that Credit Scoring has caught your attention!
Let us address the two questions:
1) Credit Scoring: CARE Finclusion solution is based on integration with local teleco's Mobile Money wallet. Telecos have the data about transactions (purchases, deposits, withdrawals etc) for each of their Mobile Money Customers.CARE Finclusion also will integrate with MifosX, a Core Banking which will manage loans. Over time, the Core banking (MifosX) will have enough data showing how a client has been managing their loans. MifosX too has a Savings/SACCOS functionality. This gives additional historical data showing patterns of savings, withdrawals etc.A combination of data coming in from Teleco's Mobile Money & MifosX data should give enough to collate the Credit Scoring!
Please review our diagrams, attached link in our submission.
Village Savings and Loan Association (VSLA) is called "Group Saving" as an standard part of Mifos
https://mifosforge.jira.com/wiki/spaces/docs/pages/81723424/Saving+Accounts
2) MifosX is Opensource stack: Our entire solution is built on top of Opensource (including Mojaloop). It's therefore our desire to build a complete solution with all the integration points with the allocated local resources by CARE. Our desire is to work with the local partner (appointed by CARE) or CARE IT team, pass on knowledge and hand over to CARE. If local partner is involved, they will be First hand support. We become therefore, second level support.We shall need to work an arrangement where we are contacted on per need basis. It's also important to note that CARE can get free support from the well established Mifos Community.
We hope these answer your questions adequately.
---
Mojaloop: Open Source Software for Opening Up Economies
https://www.youtube.com/watch?v=st0culXVmFk
---
Technology-Enabled Microfinance: Mifos Fuels Growth and Impact at Grameen Koota